Reservations
(866) 241-2431

A Meeting Of The Minds In Menlo Park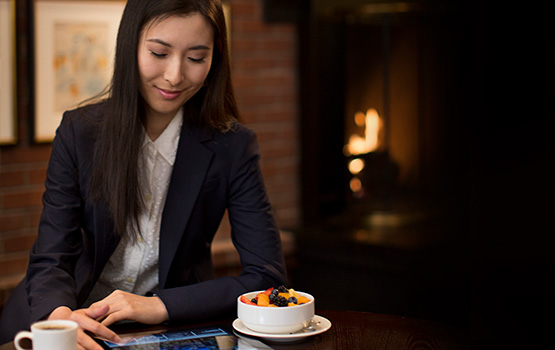 When the great minds of Silicon Valley seek to gather in comfort and seclusion, they escape to their own hidden enclave at the Stanford Park Hotel. At the crossroads of innovators, industry giants, and university spirit, Stanford Park Hotel's familial atmosphere makes guests feel at ease so they can engage in the conversations that drive business forward.
When discussions turn to celebrations, the courtyard and bar become marquee social gathering spots. From cocktail parties to private dinners, every event is infused with the spirit of a collegiate town and the understated luxury that defines Silicon Valley.
Choose from unique Silicon Valley event venues, where natural light and lushly landscaped courtyards provide the perfect backdrop for a variety of events. With 162 guest rooms, the Stanford Park can accommodate meetings and events up to 80 guests indoors and in our outdoor courtyards.
Host a casual mid-meeting luncheon under the California blue sky. Arrange for an intimate meeting in the Los Altos Room, a catered conference in the Menlo Room, or a social soiree in the Stanford Room with its wall-sized mural and attached patio. Welcoming service and gracious touches ensure every attendee feels at home.
Our unique and sophisticated Silicon Valley event space is matched by our meticulous service and outstanding catering from our on-site Menlo Grill Bistro & Bar. We are also pleased to offer a range of state-of-the-art audio/visual equipment, including on-site technicians, music and entertainment, and welcoming gifts and amenities.
ONLINE REQUEST FORM EMAIL OUR MEETING PLANNER
Room Comparison Chart
| Conference Room | Classroom | Theater | Hollow Square | U-Shape | Banquet Buffet | Conference Table | Receptions | Ceiling Height | Square Feet |
| --- | --- | --- | --- | --- | --- | --- | --- | --- | --- |
| Menlo Room | 60 | 108 | 40 | 36 | 64 | 38 | 75 | 8'3" - 9' | 904 |
| Los Altos Room | - | - | - | - | - | 16 | - | 7'11" | 532 |
| Courtyard | - | - | - | - | 50 | - | 90 | - | 1,024 |
| Stanford Room | 39 | 67 | 30 | 30 | 70 | - | 90 | - | 930 |
Menlo Room
Classroom
60
Theater
108
Hollow Square
40
U-Shape
36
Banquet Buffet
64
Conference Table
38
Receptions
75
Ceiling Height
8'3" - 9'
Square Feet
904
Los Altos Room
Classroom
-
Theater
-
Hollow Square
-
U-Shape
-
Banquet Buffet
-
Conference Table
16
Receptions
-
Ceiling Height
7'11"
Square Feet
532
Courtyard
Classroom
-
Theater
-
Hollow Square
-
U-Shape
-
Banquet Buffet
50
Conference Table
-
Receptions
90
Ceiling Height
-
Square Feet
1,024
Stanford Room
Classroom
39
Theater
67
Hollow Square
30
U-Shape
30
Banquet Buffet
70
Conference Table
-
Receptions
90
Ceiling Height
-
Square Feet
930